In Memory
David Lojek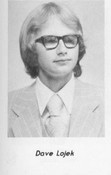 David A. "Dave" Lojek
David A. "Dave" Lojek, age 48, of Avon Lake, Ohio, passed away Thursday, March 25, 2010 at the Cancer Treatment Center of America, Philadelphia, Pa. following a brief illness.
He was born October 24, 1961 in Ft. Campbell, Ky. Dave graduated from Revere High School in Bath/Richfield, Ohio. He has resided in Avon Lake since 1996.
He was employed as a Systems Engineer at One Link Technical Services in Westlake for 4½ years. He also owned the Thunder Computer Consultants in Avon Lake and traveled extensively on the eastside of Cleveland networking and serving as IT for many companies. Dave was a nature lover, enjoyed walking in the woods and repairing truck tires.
Mr. Lojek is survived by his wife of 16 years, Kathleen Lee Ferberdino-Lojek; daughters, Erin Otilija Lojek of Avon Lake; Laurel Lee Graver (husband, Jarret) of Elyria; close family friend, Ruth Ann Inman; three grandchildren, Jasmin, Nicholas, Zachery Graver all of Elyria; a sister, Amy Z. Hintze (Ralph) of Cleveland; parents, Chester and Aija R. (Krumins) Lojek of Richfield; and father-in-law, Harold J. Ferberdino of Garfield Heights.
He was preceded in death by his mother-in-law, Janet L. Ferberdino in 2002.
Funeral services will be 11 a.m. Thursday, April 1, 2010 at the Busch Funeral Home, 163 Avon-Belden Road, Avon Lake. The Rev. Alfred Davis of Richfield, Ohio will officiate. Burial will follow at 2:30 p.m. in Fairview Cemetery, Richfield, Ohio. Friends may call at the funeral home 6 to 9 p.m. Wednesday, March 31.
Memorial contributions may be forwarded to David A. Lojek Memorial Education Fund at any Chase Bank for Erin and Laurel's education.
www.buschfuneral.com
.